Major Awards
First Prize of the Science and Technology Progress Award (#7), Ministry of Education of China, 2020
Major Grants
NSFC Excellent Young Scientists Fund (PI), No.62122053, 2022-2024
NSFC General Program (PI), No. 61972247, 2020-2023
NSFC Young Scientists Fund (PI), No. 61502302, 2016-2018
STCSM International S&T Cooperation Projects (PI), No. 23510713200, 2023-2026
STCSM Rising-Star Program (PI), No. 21QA1404400, 2021-2024

General Areas
Architectures for networked devices, server systems, and data centers
Virtualized environment, cloud platform, and edge-oriented system
Design for availability, reliability, security, as well as disaster tolerance
Power, energy, thermal, carbon footprint, and capacity management
Evaluation, analysis, and characterization of computers and applications
Recent Focus
Smart Micro Data Centers: When data center meets edge intelligence, how to better utilize various types of distributed system resources that many future services may rely on?
Selected work: ISCA'15, CSUR'18, TC'22, IPDPS'22, ISCA'23
The "Memory Wall" at Scale: How to ensure efficient memory usage for data-intensive applications (e.g., AI and graph analytics) that have irregular memory access behaviors?
Selected work: ICCD'17, HPCA'18, TACO'21, PACT'21, IPDPS'22
The "Power Wall" at Scale: As data center continues to scale out, how to provision and manage energy/power resouces in an agile, resilient, and highly efficient way?
Selected Talks
On The Three Layers of Sustainable Computing Research (PDF) : The talk was given at Microsoft Research Summit 2022, IEEE Future Technology Summit 2022, and IEEE HPCC 2022 Keynote.
Prior Works
Green Data Center Design: leveraging cross-layer power management solutions that span software, hardware, and renewable energy systems to improve the sustainability of data centers.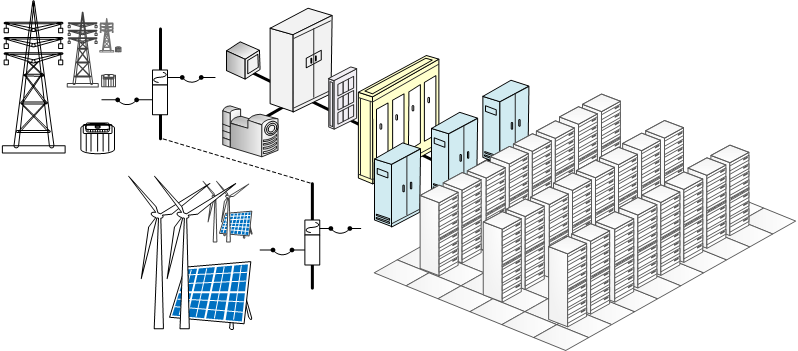 This work leverages promising renewable energy technologies and emerging hardware/software techniques to tackle the energy and environmental challenges faced by computers today and tomorrow. Prior energy-efficient designs mainly emphasize reducing power consumption or improving resource utilization; they are unaware of the behaviors of renewable power supply. By considering the interplay between power systems and computing systems, I have developed several key power management strategeis that enable highly efficient green data centers. Many of my ideas are published on top conferences such as ISCA, HPCA, MICRO, etc.